---
---
Free Shipping
Fast Turnaround
Your order ships free! Blankets typically to ship within 2-4 business days!

The Pine Torch is owned and operated by Mari, since 2015. All artwork is original to us, designed and loomed in the USA. When you purchase from us, you are supporting a family of 6!

Makes The Perfect Gift For Anyone!

Our intricate, unique, original art blankets are unique and gender neutral. The perfect gift for any age, any gender, any occasion.

---
A collection of comfy cozy woven fringe blankets
inspired by childhood nostalgia and my Nona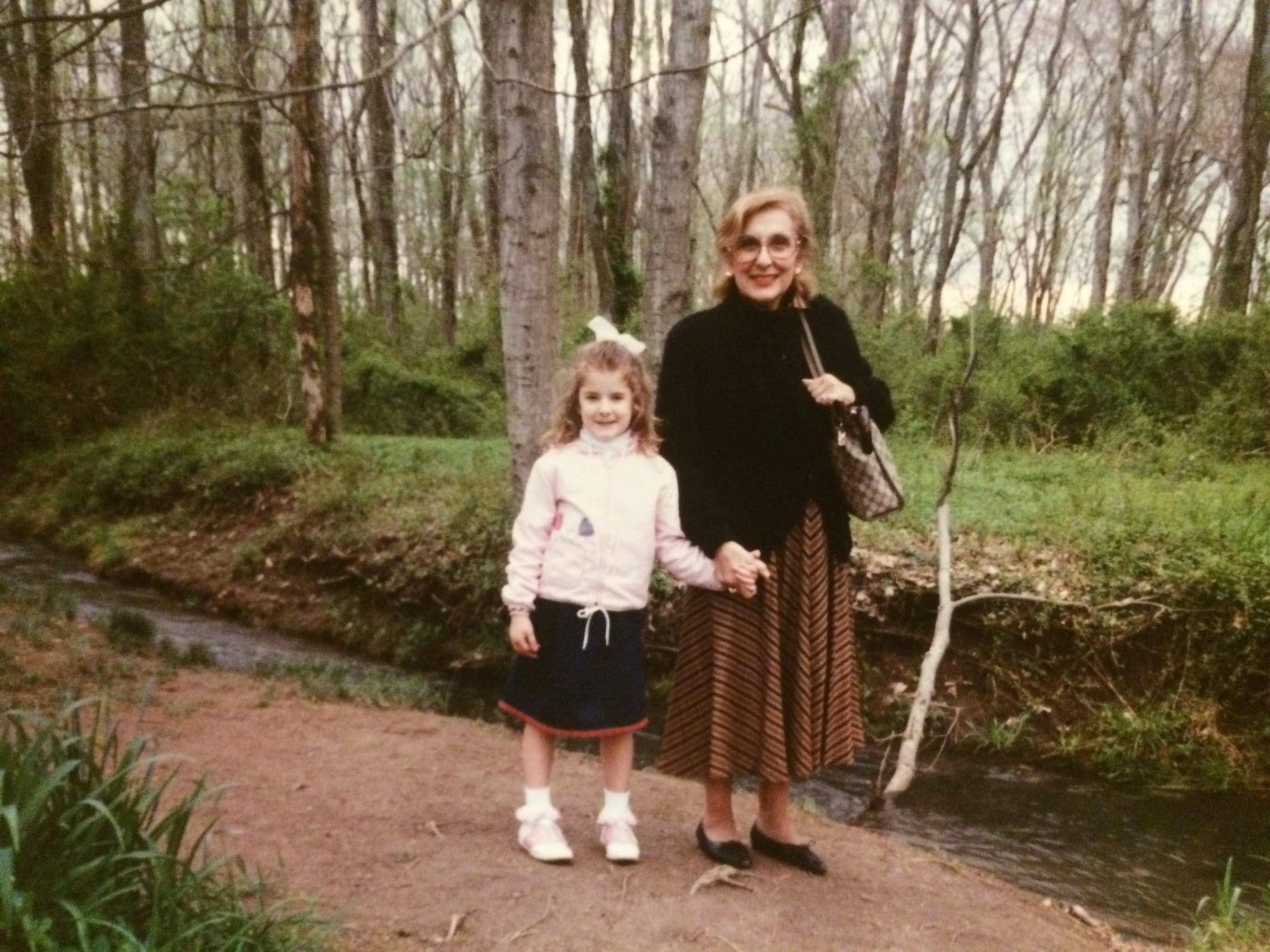 Mari with her Nona (1988)
Right now, we are all aching for a sense of comfort and reassurance while we weather the twists and turns of what has been a jarring and humbling year. While the world has slowed down and we spend more time at home, simple and useful objects that have meaning and bring us a sense of warmth and protection are sacred right now.
I have been trying to replicate the perfect comfy, snugly, cozy, vintage-vibes blanket from my childhood nostalgia. THE blanket. The perfect amount of warmth and softness, but weight and texture. The perfect blend of elegance and practicality. The blanket to make memories with, the blanket to pass down through the generations. The blanket that evokes memories and healing; love, and protection. And on top of all that: a blanket that is long enough to cover my toes at nearly six feet tall, but also easy enough to throw over the couch and move room-to-room.

Well THE blanket has been birthed, inspired by my memories at my Nona's house. Our hand-drawn woven tapestry "Nona's Throw" blankets are elegant yet comfy and are inspired by my childhood naps on my Nona's couch: with her steps away cooking fragrant Greek dishes, my Papou playing Solitaire on the kitchen table, Etta James playing on the radio, and me feeling safe, content, and relaxed as a child in the incredible loving energy of her home. These blankets evoke my most favorite and precious childhood memories of my most cherished person in the world, my Nona. I have been working on this collection through quarantine when all I wanted to do was feel safe and protected again like when I was a child. Each and every design in this collection has an intimate meaning to me - and I finally feel proud to release it! The designs are woven into the blanket fabric like the kaleidoscopic tapestry of our own lives, of our memories, and our love. They are so special.

Grab a blanket or gift a blanket: Snuggle up with a book, have a picnic, lounge on the couch, throw it on your bed + listen to music, hang on your wall...the possibilities are endless with these amazing blankets - they are a work of art!
I hope my blankets bring you the same peace, comfort, and sense of belonging that they have for me.
-Mari
Exceeded All Expectations...Add to Cart!
"It exceeded all expectations, and my expectations were quite high in my search to locate the replacement for my "security blanket" I've slept with for around fifteen years. This blanket is absolutely stunning. It is well made with a gorgeous design and I have no doubt it will stand the test of time. I purchased the larger size and it is absolutely fantastic. If you are on the fence, straddle no more: just click "add to cart" and you won't be sorry."
- Lori Beth
This blanket was absolutely made with love and it is such a good quality blanket that im almost sad to leave it out because my cats are already snuggling up on it and I don't want their hair to get on it lol!! But im so soooo happy with my order and thank you again for the fabulous work you created.
Kerry Jones

This blanket is BEAUTIFUL and I love it so much. It's literally perfect. I love how it has rainbow fringe on two sides and how the underneath is rainbow-y too. It's super well-made and looks amazing in my room. Definitely worth the money - would give 10 stars if I could.
Jamie Susman

So so so beautiful, soft and cozy. The perfect throw for my couch. I fall asleep under this blanket on my couch almost every single night since getting it. Makes me neverrr wanna get up! The designs are absolutely beautiful and exactly as they look in the photos. The shop owner is sooo sweet and helpful too. Highly recommend this store / this throw!
Adham